Every once in a while someone shows me a book that's a little different. This one is about drawing pictures on napkins.
Well, that's not quite right. It's actually about drawing pictures on anything (paper, whiteboards, the back of your hand if you must). This book is aimed for primarily at business people, who aren't necessarily known for great drawings, favouring "chartware" instead.
"
The Back of the Napkin
", by Dan Roam, argues that we spend too much time making charts that people don't understand. When we make diagrams they are generally not as useful as they should be. Much of what we write isn't read because much of it is presented in a way that we are not suited to understand. As a person who works for a multinational, multiethnic company, where much of the team does not share the same language, I know that words can cause problems. Also, adding more of them to clarify isn't always the best solution. I often feel that if I could just draw a picture in the right way I might have a better chance of getting my idea across.
This is just the kind of problem The Back of the Napkin was written for. Roam proposes that all problems and ideas can be broken down into a few unique approaches. From those approaches you can use a straightforward system he calls the "
Visual Thinking Codex
" in order to select the type of information you want to convey. Better yet, you only need a few simple boxes and lines to pull it off. The author believes that it would be much better if you drew it rather than prepared elaborate charts. This is not to say that elaborate charts don't have their place. Rather, they are overused and often prevent clarity.
As I was reading the book, I found that much of it wasn't a surprise. For example, If you want to express "when" information, you use a timeline. I've been drawing Gantt charts for most of my career, so this wasn't a revelation. Or if you want to show "how" you use a flowchart. Again, nothing new.
I noticed something interesting on the way to the last page, however.
The point behind all this wasn't necessarily to tell you something new. The point was to frame the problem of drawing diagrams into a specific way of thinking about the diagrams. I could see over time that the Codex created by Roam became very useful to frame your thoughts about a particular diagram, based on the information you wanted to convey. Sometimes my thinking is sloppy in this area and I use a diagram that isn't suited to the problem at hand. Then I have to spend far too much time explaining what I just misdrew.
With the Codex I can think about what to convey in advance and have pointers to what I should be drawing. Very helpful.
I'm sure others may get other things out of this book. I don't need to be convinced to draw a diagram and I will readily take pen in hand and go at it. (That makes me a "Black Pen" person in the book.) Others need to be convinced of the power of diagrams, or that "they can't draw" isn't an issue because these are simple drawings to make.
All in all, I quite liked the book and have already started using it in my daily work.
As an interesting side note, I've noticed that I now start categorizing diagrams that I see in the newspaper based on the Codex. Sometimes they match and sometimes they don't. The ones that don't match make me look at them to see if they are really displaying information properly. So, the book has also provided me with an interesting diagnostic technique.
2008/08/26 09:46 PM Filed in:
Books
I recently had the time to take a partial read through "
Unit Operations: An Approach to Videogame Criticism
", by Ian Bogost from MIT Press.
When I first heard about this book, I was quite excited about it. The basic premise is that Bogost is frustrated with the existing quality of critical commentary of videogames today. Intelligent discussion on the subject is practically non existent, to put it bluntly. Bogost argues that we can take the techniques used from literary criticism and generalize an approach that can be used to critique videogames. He calls this technique "Unit Operations". By extension, one could apply the technique to any medium "from videogames to poetry, literature, cinema, or art".
This got my attention. I have long thought that storytelling media (books, movies, videogames, pen-and-paper games, etc.) are more related than not. If true, you should also be able to use similar techniques to review them.
I have also been unhappy with the general quality of critique in storytelling media. In books, the more technical critiquing is so academic that it's almost impossible to fathom whether they're saying anything useful or not. In movies and videogames the reviews often seem too juvenile to be informative. In my mind most of this "critiquing" is reduced to the simplest 1) did the reviewer like it or not? and 2) how is this thing like (or not like) the others?
It would probably be far too optimistic to assume that there is one standard approach that could be used to critique these things. Nevertheless, I was hoping for something in that general direction with this book.
What disappointed me the most is that the book seems focused on convincing the reader that a common technique like Unit Operations is plausible. Thus, the book spends a lot of time talking about theory. Despite claims in the book to the contrary, it spends almost no effort on actually using the Unit Operations technique to critique anything. If I take for granted that such a technique is plausible, then I expect the author to show me how he thinks it should be done. Bogost makes no such information available, even as an appendix.
This is a disappointment, because most of the books in the new media/game studies line of books from MIT Press are written for the practitioner ("
Rules of Play
" and "
Second Person
" come to mind). Yes, theory is discussed, but how that theory is applied is also shown. This book leaves the practical derivation up to the student. While that might be fine for the students, it's not good for the practitioners. We have other things to do.
Ultimately, that's why it became the partial read I mentioned when I opened this article. I lost patience and started to look for examples somewhere, anywhere, in the book. It was for naught.
So, this book goes back on the shelf until a more practical one takes its place.
A little while ago I went hiking to
Grassi Lakes
in
Kananaskis
. I hadn't done this hike before because it was a little shorter than I generally hike.
I was pleasantly surprised about the hike. There are some great views of Canmore up the hike and some pretty little lakes at the top as a reward. I will definitely keep it in mind in the future when I have guests that drop into Calgary and would like to go on a hike that isn't too strenuous, but has some interesting rewards.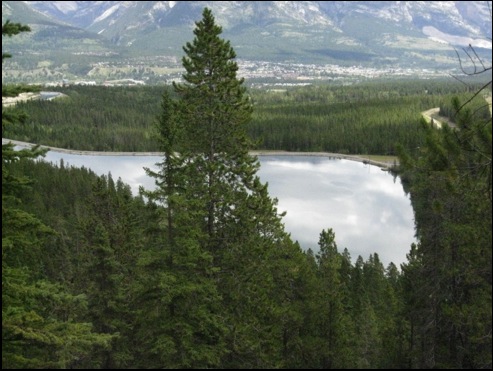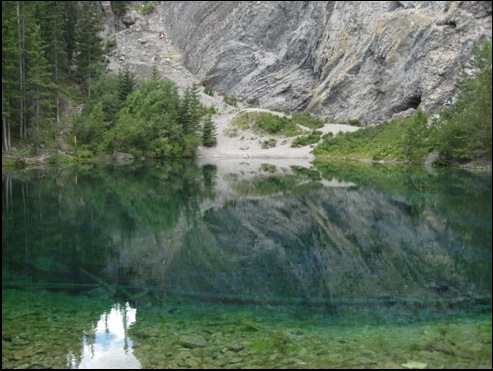 It makes me think that I should go looking around for more hikes like this.

(Sorry for the graininess of the pictures. I didn't have my camera set up properly.)