2013/09/12 10:18 PM
Tonight we brought another couple of classics back to the table.
Union Pacific
is long out of print, having been superseded by Airlines Europe. Still, it has a great set of mechanics and can be a very tense game. This is especially true when the final scoring round happened one turn too soon, and almost immediately after the second last scoring round. As it is, I would have won (surely you believe me, dear reader)!
As it was, I ended up in last place, but had a great deal of fun with this game.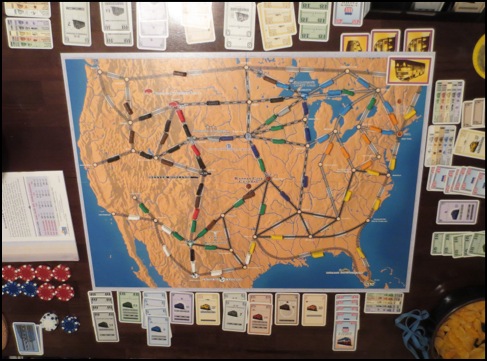 After that we played a few rounds of Die Sieben Siegel, a wonderful trick taking game with some neat features. It has come to the table so many times that I've had to sleeve the cards. Sadly, the version I like is out of print and the current version has such terrible artwork that I refuse to play the new one. Yes, it;s that bad. Nevertheless, here is another great game that doesn't come to the table often enough.

But tonight both games were back!